Leah Ashley Adams was born April 25th, 2009 in Shawnee, OK and passed from this life September 21, 2010 in Oklahoma City, OK.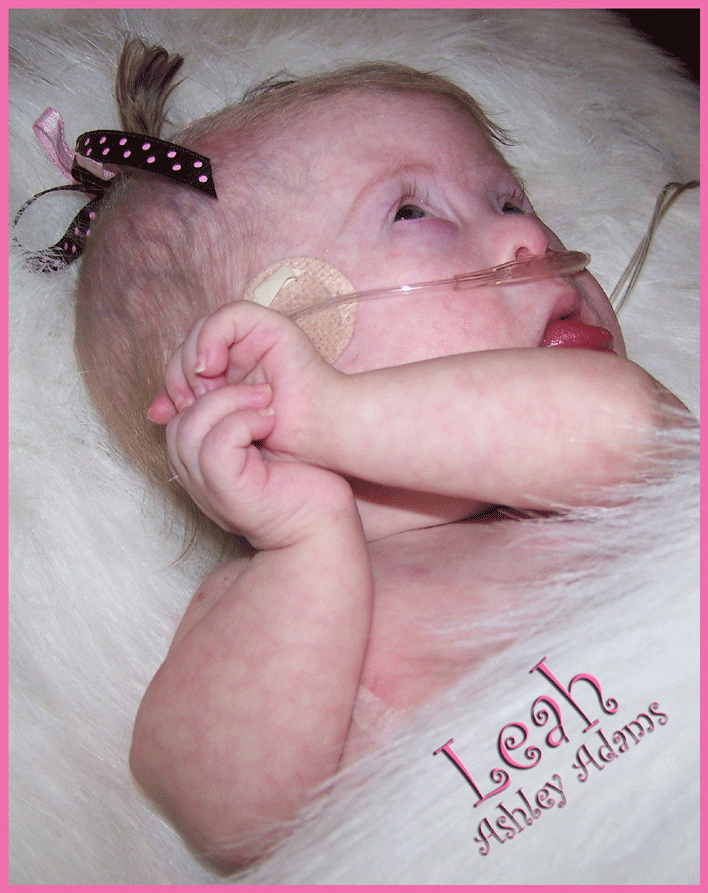 Leah was born two months early and suffered with Down Syndrome as well as Pulmonary Hypertension, Pulmonary Vein Stenosis, Chronic Lung Disease & Chronic Kidney Disease; as a result of complications she spent most of her life in the Children's Hospital in Oklahoma City. The exception to that was the Holiday season of 2009 when Leah was stable enough to come home! She experienced one very special Thanksgiving and Christmas at home with her family. She was known as "Princess Leah" by many of her nurses in the PICU at Children's Hospital. She was loved by her family and the medical staff that gave her such wonderful care.

Though her life was short, Leah made a difference in the life of so many that had the privilege of spending time with her. Most of all her mom, dad and big brother, who walked by her side through every surgery and sat by her bedside during long days of uncertainty; who made tremendous sacrifices to make sure that Leah experienced their loving presence and tender touch. Leah was such a special gift from God that they were compelled to put their lives on hold and in just over a year they experienced a lifetime of emotion and gave to Leah a lifetime of love.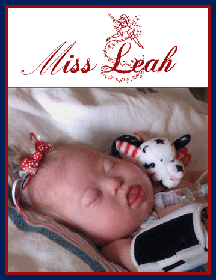 Now, as a mother of two, we had welcomed our daughter into the world eight weeks before her expected birthday. We built this website during her extended hospital stays in dedication to our little angel, Leah as well as to help with financial support during our many months at the hospital with a job loss due to the economy at the time! Leah had many, many medical issues, first and foremost she had Down Syndrome. Most of our time was spent in and out of the hospital which totaled all together - 14 months -

Leah passed away at 17 months of age and was and still is a true blessing! She had a long history and was such a fragile little girl. We were anticipating to bring her home a few weeks prior to her death on a home ventilator. Well that was the plan anyway! Although, she is very much missed here on Earth - Leah is now in the arms of our Lord, Jesus Christ and feeling no pain!

A little history on our little angel ...

We had complications during pregnancy where she was born 8 weeks pre-mature. On top of her pre-maturity and being in the NICU for 7 weeks, she was diagnosed with Down Syndrome upon birth. WOW! - what a shock, we had no idea during pregnancy and had a lot to absorb in the very beginning! She has been a real trooper in her early history of life and a total JOY to have. If that was not enough, she had also been diagnosed with Chronic Kidney Disease as well as Pulmonary Hypertension along side of having Down Syndrome. She wass definitely a full time job! Most Moms and Dads are running here and there with Ball Games, Girl Scouts/Boy Scouts, other Sporting Events, Band, Music Lessons, Dance, Karate, the list goes on and on. But, in our case, it was pretty much all health related, going from Doctor to Doctor, Developmental Care Assistance, Home Healthcare, being admitted in the hospital for weeks, mostly months on end, etc. Our time was constantly consumed with our daughter and her health issues.

That is why I built this website in dedication to her! Instead of helping us financially, we have kept this site going in order to help other parents who have or end up going through times like we had with their child.

Being at the hospital where you can't sleep in the same room with your child, being in the ICU for many months straight, expenses like - just feeding your family as well as yourself, needing gas money to get to and from the hospital can be a challenging ordeal. - We would welcome any donation of any kind if you graciously would like to wish to contribute to our ministry and in turn, allowing us to contribute and help other parents and them knowing they may have the gas tomorrow to get to the hospital or a hot meal the next day, you are such a blessing to many families tomorrow and today and we Thank You from the bottom of our heart!

As a Tribute to Our little Angel - It has now become my mission to try and help through my life experience to be there for other parents, whether it be emotionally, financially or physically who end up with a child in the hospital who ends up with extended hospital stays. Please, if you will, follow me on my blog or make a donation to - Leah's Hope! My HOPE is that I touch the lives God Leads me & wants me too -
Please visit our Ministry Blog, "Leah's Hope" as a tribute to our daughter, Leah.
Providing Hope & Encouragement to Parents of a Critically ill Child. Leah's Boutique helps to provide the funding needed in order to financially help these families in need of support during
extended hospital stays. Please take the time to visit My Blog!